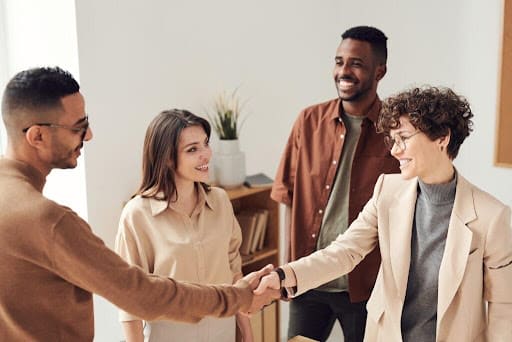 Selling your property—especially in this current market—is a BIG deal. Interview at least 2–3 candidates and be sure to ask the following questions before you make a decision.
1. How many properties have you closed in the past year?
Asking this question will give you immediate insight into the agent's success rate and skill level in managing transactions from start to finish. You'll also get a sense of their experience and contacts within a broader network of brokers and buyers' agents as these relationships are key to successful deals.
2. What is your list-to-sale ratio?
In mathematical terms, the list-to-sale ratio is the sale price of a property divided by the last list price. If the percentage is over 100%, it means that the property sold for more than the asking list price. If the percentage is below 100%, it means the property sold for less than the asking list price. That said, you want an agent whose average list-to-sale ratio is over 100%.
Why is this percentage so important? It gives you insight into your agent's competency in 3 key areas: pricing, market navigation, and negotiation
3. How will you price my home?
Pricing strategy is the single most important part of your transaction. Period.

In an effort to win your business, there are many agents who will exaggerate the price of your property and give you a pie-in-the-sky number just to get hired. This shady practice is known as "buying the listing."

Overpricing a property is dangerous and can set you up for failure. This practice is a surefire way to turn off buyers. If you've scared off potential buyers, then the property will stay on the market for much longer than necessary and inevitably sell for much less than the initial list price.
Moral of the story: the agent who quotes the highest price isn't always the way to go. When interviewing candidates, ask them to go in-depth about how they conduct a
comparative market analysis
. Understanding an agent's pricing strategy will indicate whether they know how to competitively price a home to drive multiple offers—ultimately giving you the upper hand.
4. What is your pre-marketing strategy for my property?
A strong pre-marketing strategy sets the stage for the entire deal. It involves high-quality photography that best showcases your property, and communication with other brokers to help generate buzz before it hits the market. Great pre-marketing essentially prepares you for the runway before you take flight.

While there's always some degree of unexpected turbulence in a real estate transaction, setting an airtight pre-marketing strategy can mean the difference between an extremely bumpy ride and pleasantly coasting to your destination!
5. Can I speak with one of your previous clients?
This might be one of the best questions you can ask! Speaking with a previous client affords you the opportunity to ask so many more questions than what's listed in this guide. You can obtain unbiased information, by learning more about a real client's actual experience with the agent. You can also drill down and get real-world examples of the agent's ability to set strategy, navigate the market and negotiate. Be sure to ask about the negotiation process (i.e., how many rounds, etc.) to understand the agent's skillset in this crucial area!
Ready to sell your home in The Woodlands? I would very much appreciate the opportunity to interview and serve you—
let's chat
.