We sat down with one of our favorite partners, Kevin Frankel of the Frankel Building Group, to discuss custom home building in Greater Houston, the benefits of building a new home, and the most important lesson he's learned in business.


So, I Must Say: One of the Things That I Love the Most About Frankel Building Group is That You All Don't Build Cookie-cutter Homes! Talk to Me About Your Custom Design-build Method and What the Process Looks Like for Your Clients

We take our cues from what our clients ultimately want to see at the end of the process.
The impetus behind people wanting to design and build a house is generally five or six things that they really want and can't find anywhere else. Our clients come to us with these specific desires and goals, and maybe an architectural style, and the process stems from there.
If you start there, with the client's wants and needs, the variety naturally creates itself. We don't have to be as vigilant about doing everything totally different than the thing before because our clients are shaping that variability. We're doing what folks like and it starts with the client. The process is truly client-driven.
So the fact that our homes aren't cookie-cutter is truly because everybody is different and their goals are at least a little bit different.
What Sets Frankel Apart From Other Custom Home Builders in Greater Houston?

The biggest differentiator is that our architecture is in-house. The second thing is we have more resources for our clients—in-house and at our disposal than any other custom builder.
If a client says, "A pool is part of the vision for my home," it's great because we actually own a pool company. This allows us to jump into the pool design much faster than the competition, and incorporate it into the same software as the house design so we can show the client their pool from any room in the house.
Our interior design services also allow us to jump into the meat of the decorative finishes, which are critical for our clients to see, and our after-market services once the warranty is done are unparalleled by any other builder.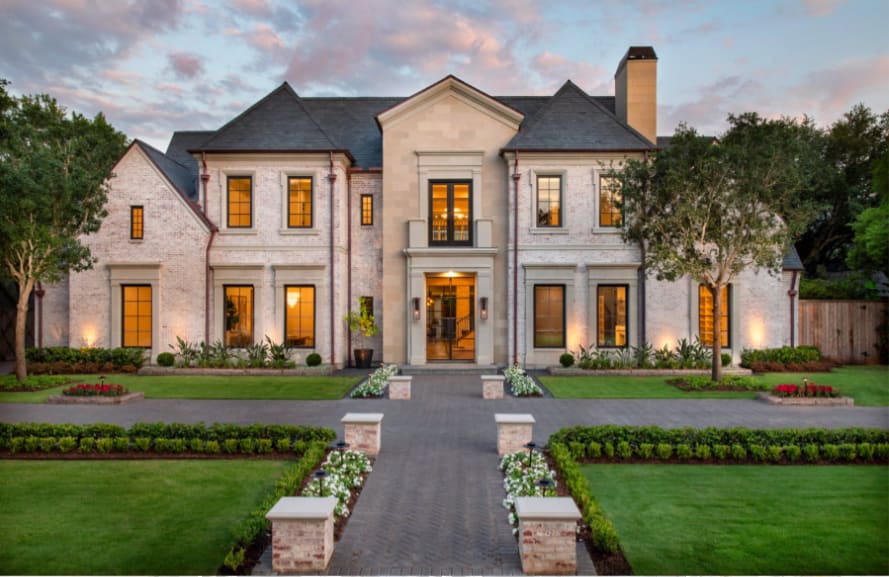 Transitional style home by Frankel Building Group in Tupper Lake

On Average, How Much Does It Cost to Build a Custom Luxury Home in Houston?

When we're just talking about the vertical construction of a finished home—not the driveway, not the landscape—just the house built and finished, the low $200s range per square foot is the least that we've seen in the last couple of months that we can do. There are builders that can do it for less, but that's for a much different finished product than what we create. We build something different.
During This Time, How Long Does It Take to Build a Custom Home From Start to Finish?

From beginning to end, we can build most homes within 9–10 months and then there are some that might take up to 2 years. Keep in mind that there are guys who do much smaller, less expensive builds that are going to be a lot faster than what we do, but they're striving to be the best they can be on their platform.
On our platform, we like to think that what other custom builders do in 13 months we can do in 11.
What Are Some Common Challenges That You Like Clients to Be Aware of Before Setting Out to Build a Home, Especially Right Now?


The biggest challenges would be the variability in build time and the amount of patience required to get through structural and civil engineering specifications, inclement weather conditions, permit issues, etc.
I'm not good with things I can't control, and I imagine that most people aren't either, so this is where we have very frank conversations about what's in our company's sphere of control and we find that our clients appreciate that honesty and transparency.


In Your Experience, What Are the Biggest Pros and Cons of Building a New, Custom Home Versus Buying a Resale?

The pros of building a custom home:


You're getting exactly what you want
The level of building technology is going to be better
Greater longevity and sustainability than houses built 10 years ago
Less maintenance
The cons of building a custom home:


Custom homes often have the the illusion of having a higher cost
For example, I've had people who really stressed about the price and their budget and then 2–3 years later say, "Man, I really wish I had added that extra thousand square feet" or "I can't believe I got that price how did that happen?!" Without having the benefit of hindsight, it can be a hard thing to take that leap and make that investment toward a new home.
On the other hand, if you find a resale that you like, regardless of the price, the timespan is much shorter and you're in—good or bad. It doesn't matter if you were right or wrong about the house, you can move in within 30 to 60 days. Of course there's the risk of dealing with whatever the fallout is, but you're in. That's a pro. The con is that you're getting what someone else really wanted.


What Are Your Thoughts for Those Who Ask "is Now a Good Time to Build a Home in Houston?

Well, we're seeing a "new normal" in construction costs. While there's a fluctuation in the cost of lumber, we've never really seen a wholesale decrease in construction costs. Even back in 2009 during the recession, there was just an overall stabilization. So over the last 3 or 4 year timeline, it's been an amazing time to build a home in Houston—especially if you already have a piece of land. We know that finding land in Houston is not always an easy thing to do, and this is definitely a factor that fluctuates more than the cost of construction.
On the contrary, it's a weird time when people are saying, "I've been looking for a lot for 6 months and I can't find one." That's a much tougher hurdle to get over than "I have a lot and I know what I want to do—do you think I could accomplish what I want?" We can figure that out in a couple of minutes!


In Addition to Building Homes, Frankel Owns and Operates

Avea Pools

. What is Your Approach to Designing Swimming Pools and Outdoor Living Spaces?

In the past couple of years, the amount of attention and detail required for covered outdoor living spaces, pools, landscapes, hardscapes, gates, fences and water features has gone into the stratosphere. I think a lot of this is attributed to the post-Covid understanding that outdoor spaces are just as important as indoor spaces!
We are more on our game now than ever before and dedicate a lot of time and careful consideration to designing pools and outdoor living spaces. It definitely requires more work, more inspections and more permitting than what was needed 20 years ago.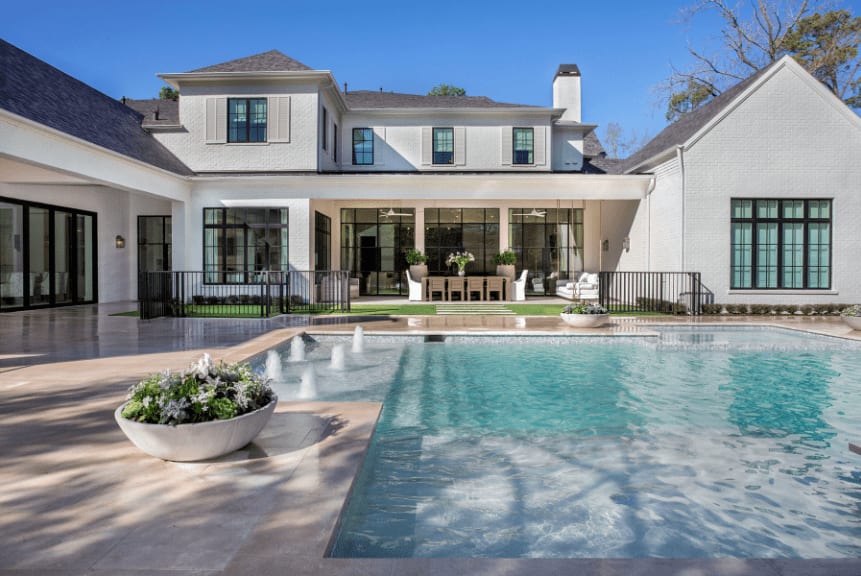 Custom swimming pool (and home!) by Frankel Building Group in Fall River
What Do You Enjoy Most About What You Do?

Coming from an analytical background, I really enjoy getting to see and experience the heart of the creative process. We have so many creatives on our staff that have been with us for over a decade, and watching what they do is truly amazing. Furthermore, watching how the client interacts with our architects and interior designers, how they're coming up with concepts from just a few ideas that sparked their interest in a new home, is truly awesome. Witnessing these ideas flourish into designs and execution is a really cool thing to be a part of.
We have clients who initially see the pictures on our website. They have an idea in mind and know we do "the thing." But oftentimes, it's hard for them to believe that we can make it happen until they see it. So now we have a process that allows for people to see the magic unfold in real time. Watching the buyer go from a place of disbelief to a place of "Wait—I see it!"—and knowing that we created a process that was sensitive to that evolution—is deeply gratifying.
It's that moment when they can see that we know what we're doing. Which is when we say, "Now let us take you those last couple of steps which is basically the build process!"


What is the Single Most Important Lesson You've Learned in Your Line of Work?

If you hear the same comment from three different customers, take the feedback and change the process to make the customer more comfortable and prevent any unnecessary issues. Whether that's feedback on communication, architecture or the construction process.
Frankel Building Group is a Family-owned Business That's Been Around for Over 30 Years. What's One of Your Favorite Things About Working With Your Brother and Father?

My favorite thing is that you trust your partners 100% and there's never a question about best interests. It's also pretty cool to spend time with your family at work!


What's One Fun Fact About You That Most People Don't Know or Would Find Surprising?

I own the Green Bay Packers. Well, at least a few shares of stock!


Favorite Album(S) of All Time?

Beastie Boys' "Ill Communication" and De La Soul's "Buhloone Mindstate".


Favorite Place in the World?

Oneida County, Wisconsin.


What Are You Currently Reading or Binge-watching?

I just read "Project Hail Mary" by Andy Weir, which is awesome, and now I'm reading "Recursion" by Blake Crouch. As for series, "Westworld" and "Better Call Saul" are great. "Westworld" is so crazy now that I have a hard time following it! And "Better Call Saul" is a bit of a masterpiece.


What's the Best Advice You've Ever Received?

"Check the facts!"