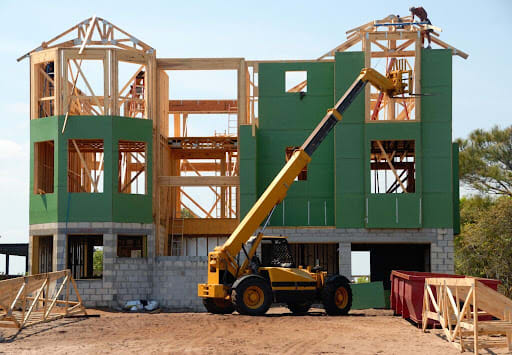 As of late, Aspiring homebuyers in Texas are faced with the following options: buy an existing house at an increased market rate, wait for prices to go down, or build a new house from scratch. If you're in the last category, you're probably wondering: "How much does it cost to build a house anyway?" and "Can I afford it?" This is where construction loans come in.
You might be a good candidate for a construction loan if
You can't find exactly what you want on the market

You want to build your dream home from scratch

You want to renovate your current home to increase its value
What is a construction loan?
A home construction loan or "self-build loan" is a short-term loan that's used to finance the construction of a new home, renovation or restoration project. Due to the extra risk involved, construction loans typically have higher interest rates than traditional mortgage loans.
How do construction loans work?
In most cases, the homebuyer will take out a construction loan to fund costs over the duration of the project. Construction loans typically cover the following costs: land, labor, architectural designs, contingency reserves, building materials and permits. Construction loans are good for a year or so, which is the average period of time it takes to build a custom home from start to finish.
Once a construction timeline is set with the builder, the borrower is given a "draw schedule" which details when the builder will receive payments over the course of the building process. Unlike mortgage loans, construction financing is distributed in stages instead of one lump sum. After the home is built, the borrower may be able to refinance the construction loan into a permanent mortgage (this is called a "construction-to-permanent loan") or take out an "end loan" to pay off the balance. However, just keep in mind that the repayment terms of your construction loan will depend on your finances and the lender.
Are construction loans difficult to get?
The answer to this question brings us back to the issue of extra risk. When a lender issues a mortgage loan, the home itself is collateral in the unfortunate event that the borrower defaults on their mortgage payments. With construction loans for new builds, the lender is taking a bigger gamble (as there is no existing home to claim as collateral if things go awry). To minimize risk, lenders may require a minimum credit score of 680 along with other requirements like a low debt-to-income ratio and a specific income range.
Curious to know more about construction loan rates and whether or not this is the way to go for your real estate needs?
Let us connect you with one of our preferred lenders
to discuss your options.