If you're looking for a laidback, walkable neighborhood with beautiful cul-de-sacs and a family-oriented suburban feel, Tomball is the place for you. Tomball is a close-knit community that's known for its amazing hike and bike trails, historic landmarks and colorful antique shopping district in what is now known as "Old Town Tomball." According to the 2021 United States Census, Tomball has a population of approximately 12,180 residents. Given its smaller population and spread out landscape, Tomball is a great option for families looking for more space.
Located in the northernmost part of Harris County, Tomball is about 33 miles north of Houston. It is conveniently located near major roadways such as the Tomball Parkway (State Highway 249), the Grand Parkway (State Highway 99) and I-45. Popular parks and green spaces include the Spring Creek Park, Jerry Matheson Park, the Theis Attaway Nature Center and the Kleb Woods Nature Preserve.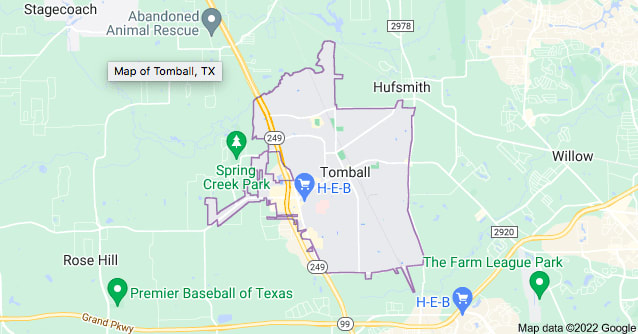 Image courtesy of Google – click the map to explore Tomball!
Things to Do in Tomball, TX
From serene nature and wildlife areas to historic points of interest and landmarks, there are a number of things to do in Tomball. As far as Texas attractions go, Old Town Tomball is a popular place for an afternoon of browsing antique shops, boutiques and novelty stores. Popular tourist attractions include the Tomball Railroad Depot Plaza and the Tomball Museum Center.
The Railroad Depot's gazebo is a popular gathering point for family picnics, weddings and annual events like the Tomball German Festival Christmas Market, the Honky Tonk Chili Challenge and the GroovFest. Tomball is super big on holiday celebrations, so parades, fireworks and festivals are the name of the game in this family-friendly community. Tejas BBQ is consistently voted as one of the best places for bbq in Houston, so you absolutely have to try their award-winning mole barbecue sauce, chile relleno sausage and artisanal chocolate! Curious about other great restaurants in Tomball? Fielding's Local, Cupcakes and Bubbles and Levure Bakery are just a few of our favorite Tomball restaurants and bakeries.
One of the Voted as one of Texas' best local farmers markets, the Tomball Farmers Market happens every Saturday from 9am–1pm, rain or shine. Grab your basket and get ready for locally grown produce and farm raised meats, specialty foods and baked goods. This weekly event is also pet-friendly, so feel free to bring along the furbabe!
If you're a fan of live music, you'll want to check out the monthly concert lineup at Main Street Crossing. This intimate haven for music lovers also happens to be an "all-ages listening room," so it's perfect for date nights or an evening out for the entire family. Regal Lone Star 19 & Imax Tomball, TX is also a very good movie theater that draws a ton of people to the area.
Restaurants in Tomball, TX
Here's a quick roundup of some of the best restaurants in Tomball, TX:
Tomball, TX Schools
The Tomball Independent School District is a top-rated PK-12 public school district that serves all children living in the Tomball community. Tomball ISD is ranked by Niche.com as the #1 Best School District in the Houston area. As further evidence of the district's commitment to educational excellence, Tomball ISD announced in November 2022 that it will begin construction of a $15 million dollar pre-K center. For more in-depth information on this school district, visit Niche.com and GreatSchools.org.
Tomball, TX Real Estate Insights
Homes for sale in Tomball, TX can range anywhere from $100K to $2M. Within the past 12 months, the median sales price of houses in Tomball was $436,524 with an average price per square foot of $172.03. Harris County is one of the fastest growing counties in the U.S., so any real estate purchases made here are a great investment.
If you're looking for new construction homes in North Houston, Cherry Pines, Amira, Woodtrace and Lakes at Creekside are all wonderful new home communities in Tomball, TX. Popular architectural designs in Tomball include French country style homes, contemporary modern homes and traditional homes with casitas.
What is Tomball, TX known for?
Tomball, Texas earned the national nickname "Oiltown USA" when Humble Oil Company (now Exxon) struck oil there in 1933. Tomball is also the hometown of six-time NBA All-Star and Miami Heat forward Jimmy Butler, Los Angeles Sparks star Chiney Ogwumike and MLB infielder for the Pittsburgh Pirates, Ke'Bryan Hayes.
For more information on the city of Tomball, please check out the official website!
TOP FAQS ABOUT TOMBALL, TX
What makes Tomball a great place to live?
Tomball is known for its small-town charm, excellent schools, and a strong sense of community. Residents enjoy a quieter, suburban lifestyle while still being close to the amenities of Houston.

What types of homes are available in Tomball?
Tomball offers a range of housing options, including single-family homes, townhomes, and apartments. You can find everything from historic houses to modern developments.

What's the current real estate market like in Tomball?
The real estate market in Tomball can vary, but it's generally considered stable. Factors like location, amenities, and property condition can affect pricing and demand.

Is Tomball a good place for families?
Yes, Tomball is often chosen by families due to its highly rated schools, parks, and family-friendly events. It's known for its safe and welcoming environment.

How is commuting from Tomball to Houston?
Tomball offers convenient access to major highways like Highway 249, making it relatively easy to commute to Houston. Many residents work in the city but prefer to live in the quieter suburbs.